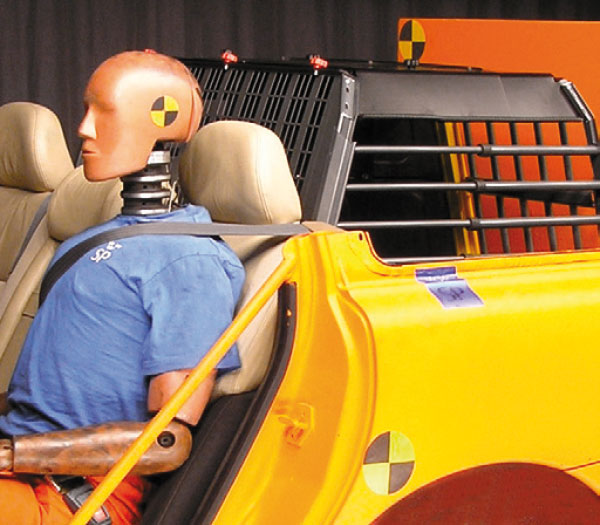 For us, safety always comes first, which is why we have chosen to turn to the RISE Research Institutes in Sweden to crash test our cages. RISE is the only organisation of its kind in the world to use a real car body with a standard car interior when performing crash tests. The norm when crash testing dog cages involves using a flat sled, to which the cage is secured with straps. Its ability to withstand the crash without the extra support of a proper back seat is assessed on this basis. The straps are fastened to machined loops designed to lift several tons. The majority of securing points in ordinary cars cannot be relied upon to hold at weights as low as 5-6kg in a frontal collision at 50kph. In these cases it is the rear seat backrest that is subjected to the biggest load and not the loops at the securing points. Thus, most crash tests do not truly represent a real crash scenario. RISE's Safe Pet Crate Test (SPCT) eliminates the risk of incorrect testing. (SPCT Method)
A part of MIM is currently working on the development of next-generation crash test dummies.
Our engineer Anders Flogård is today involved in the production of a new whiplash crash test dummy with female proportions.
Today's Whiplash Dummy BioRID II, used worldwide, has helped reduce the risk of whiplash up to 50% in the best car seats, with a mechanical spine designed by Anders.
The majority of all whiplash injuries occur at moderate velocity changes below 25 km/h.
Even though most injured are women, the car seats are optimized for men. With the help of the new EvaRID dummy, it will be possible to further reduce the risk for women.
When the next generation of whiplash dummies was planned, they off course turned to the same person who made the success possible with the first whiplash dummy.