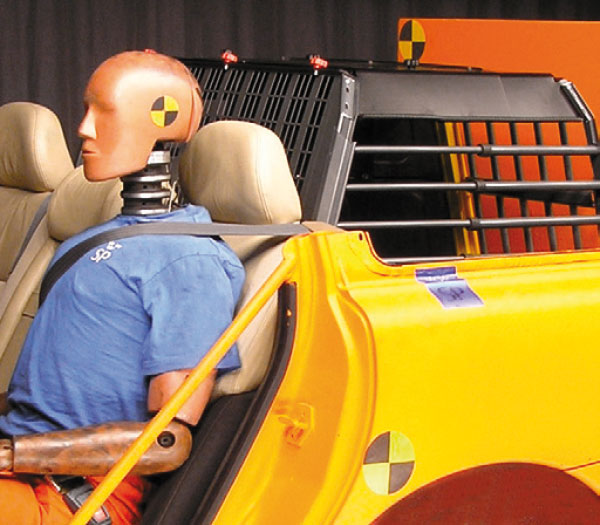 För oss går säkerhet alltid först, därför har vi valt att vända oss till RISE Research Institutes Of Sweden för att krocktesta våra burar. RISE är de enda i världen som använder sig av en riktig bilkaross med inredning från en vanlig bil när man genomför krocktestet. Vanliga krocktester på hundburar baseras oftast på en platt släde där man ser om buren håller vid krock när man spänt fast den med band utan ett riktigt baksäte att stå emot. De banden fästs in i släden med maskinöglor som är till för att lyfta flera ton. Vi vet att majoriteten av alla lastöglor som finns i vanliga personbilar brister redan vid så låga vikter som 5-6kg vid en frontalkollision i 50km/h, det är alltså baksätets ryggstöd som tar största lasten och inte lastöglorna. Man kan alltså inte förlita sig på att bilens lastöglor håller om olyckan är framme. De flesta krocktester efterliknar med andra ord inte ett verkligt krockscenario. RISEs SPCT (Safe Pet Crate Test) eliminerar risken för felaktig provning. (SPCT Method)
A part of MIM is currently working on the development of next-generation crash test dummies.
Our engineer Anders Flogård is today involved in the production of a new whiplash crash test dummy with female proportions.
Today's Whiplash Dummy BioRID II, used worldwide, has helped reduce the risk of whiplash up to 50% in the best car seats, with a mechanical spine designed by Anders.
The majority of all whiplash injuries occur at moderate velocity changes below 25 km/h.
Even though most injured are women, the car seats are optimized for men. With the help of the new EvaRID dummy, it will be possible to further reduce the risk for women.
When the next generation of whiplash dummies was planned, they off course turned to the same person who made the success possible with the first whiplash dummy.