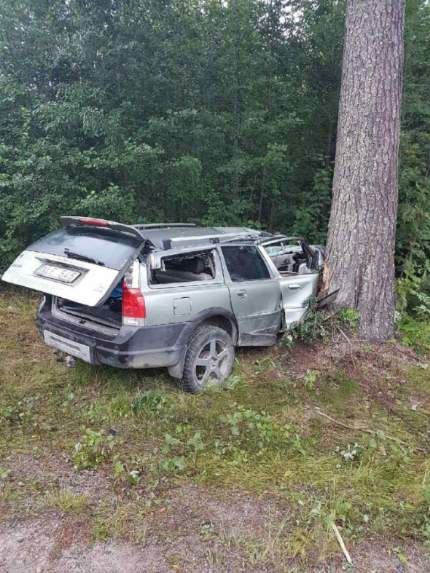 Tomas's car after the accident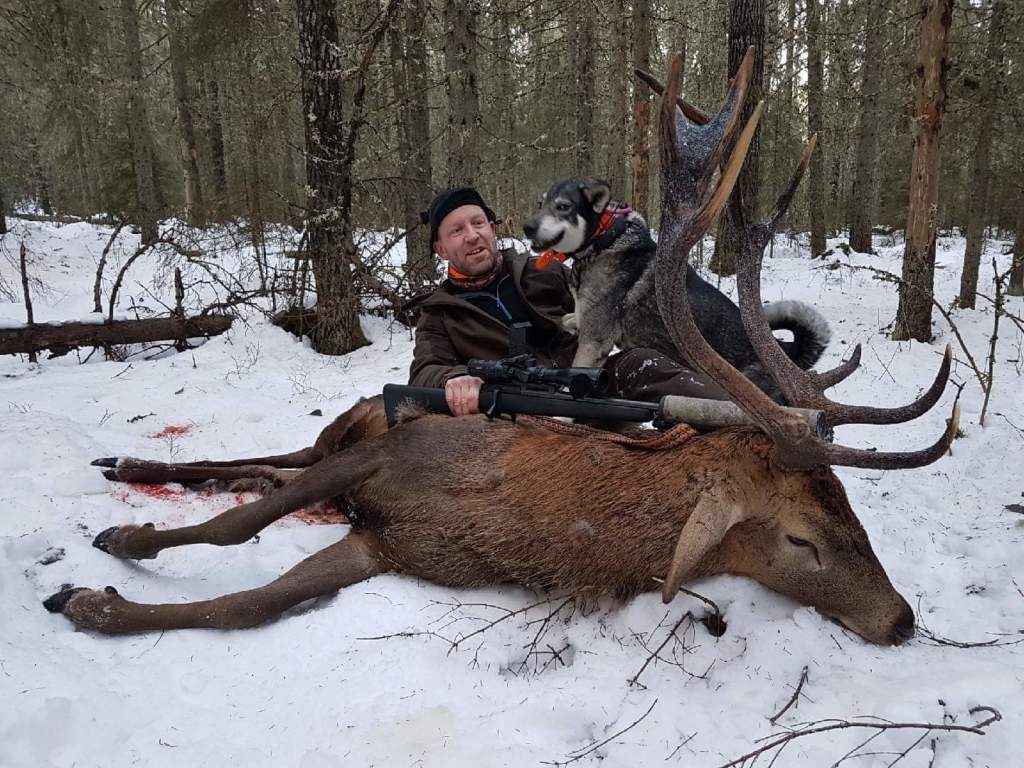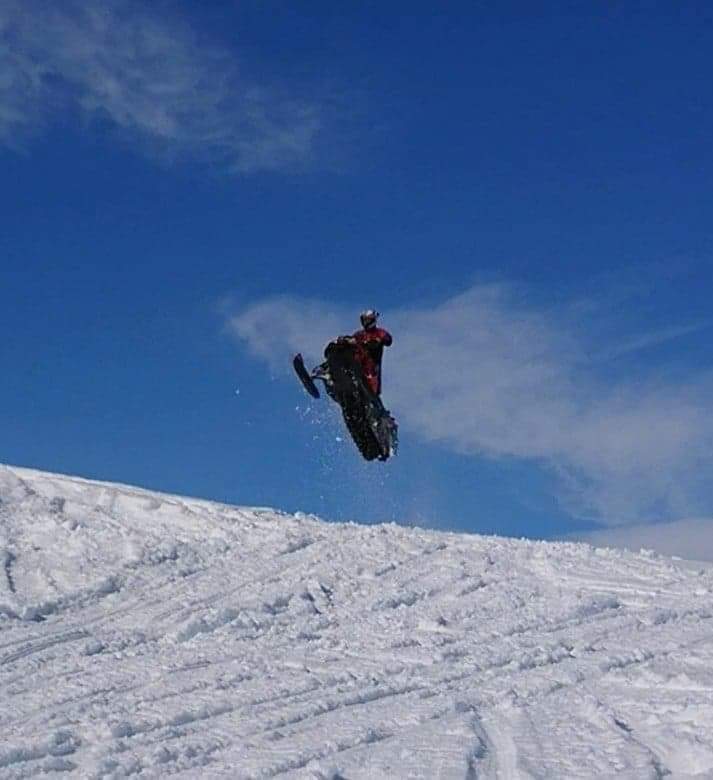 Tomas is completely recovered today
Tomas is driving, with his 17-year-old son Jonathan is sitting in the passenger seat. The third member of the family, the hunting dog Assi, is in MIMsafe's VarioCage in the back. Then it happens.
It's August 2017. They are in the middle of a bear hunt. Their Swedish Jämthound, Assi is sitting securely in the cage at the back. Their other dog, Yla, on the other hand, is in full pursuit of the bear they are hunting.
Tomas is on his way to the railway line that runs through his village, Hörnö. The bear seemed to be heading in that direction and Tomas is intent on preventing it from actually reaching the line.
All of a sudden, a moose appears right in front of their car.
Tomas tries to swerve away, but in vain. They can't avoid the collision. The huge creature slams into the windscreen. The vehicle careers into the ditch before it smashes into a tree and stops dead. Everything is suddenly very quiet.
"My son and I were alive, but we didn't hear anything from Assi. I thought there would only be minced meat left of her." Tomas says.
Imagine his surprise however when they checked up on their giant dog – and found her alive and unharmed.
"She even wagged her tail. We just couldn't believe it!"
The cage, a MIMsafe VarioCage double, had done its job. However, both Tomas and his son suffered serious injuries, but have now fully recovered.
"My guardian angel must have been watching over me. I suffered a crack of my neck. The doctor said just a millimeter or two separated me from a certain death. The lad suffered facial injury when the screen shattered, but has now fully recovered apart from a few scars." says Tomas thankfully.
Some time after the accident, Tomas contacted MIMsafe in Trollhättan.
"I wondered if there was any help available after such a serious accident."
A MIMsafe cage is never re-used after an accident. Safety reasons dictate that it never be used again, since its capacity to withstand collisions might be have been compromised, although it might seem intact.
"I received amazing service and willingness to help. It actually ended with MIMsafe providing me with a new cage.
I'd have bought myself a new cage anyway, even if they hadn't been so generous.
I'd never use any other manufacturer's dog cages, despite their claims about them being "crash tested". Because they are not really, not the way MIMsafe does it, which is just like the way cars are crash tested.
Tomas can't understand why some potential buyers react to the cost of MIMsafe's cages.
– Har man varit med om något som jag upplevt, förstår man att värdet av att en bur från MIMsafe betalar sig alla dagar i veckan.
"Quality comes at a price, as does the research and development work MIMsafe have put into their product since the turn of the millennium. This is unique in the industry. That sends a clear message."
Today, Tomas is one of MIMsafe's new ambassadors. The only 'fellah' in the gang, so far, we should add.
"And the only hunter." Tomas proudly emphasizes in his distinct northern dialect.
During the day, Tomas works as a floor layer. In his spare time, he devotes himself to his kennel where he breeds the Swedish hunting hound "Jämthund" and Plott hounds.
"Our Plott hound Yla is a really nice dog. At home she is a quiet, mellow companion, but when we're off hunting she changes character completely, she turns into a totally different dog. Great at hunting bears, lynx, badgers, pine martens and racoon dogs.
He uses the Moose hounds he breeds to hunt elks, bears, badger, pig, red deer and even racoon dogs.
Alljaktens Kennel translates into "The All-Hunting Kennel". The name tells it all.
Tomas goes on to tell about Assi's life after the accident.
"She has produced two litters since. The first litter after the accident consisted of 13 (!) puppies and the second of 11, so she is feeling pretty good all in all."
Apart from hunting, Tomas is into snowmobiles in a big way and has competed in snowmobiling events.
"I enjoy all the noise and the clatter. It's as simple as that." Hunting and motor sports are definitely his thing.
We welcome Tomas to the MIMsafe team and wish him the very best of luck as ambassador.
Text:
Lars Sergård
Head of Marketing & Communication
MIMsafe
[email protected]
+46 (0) 708-64 14 76