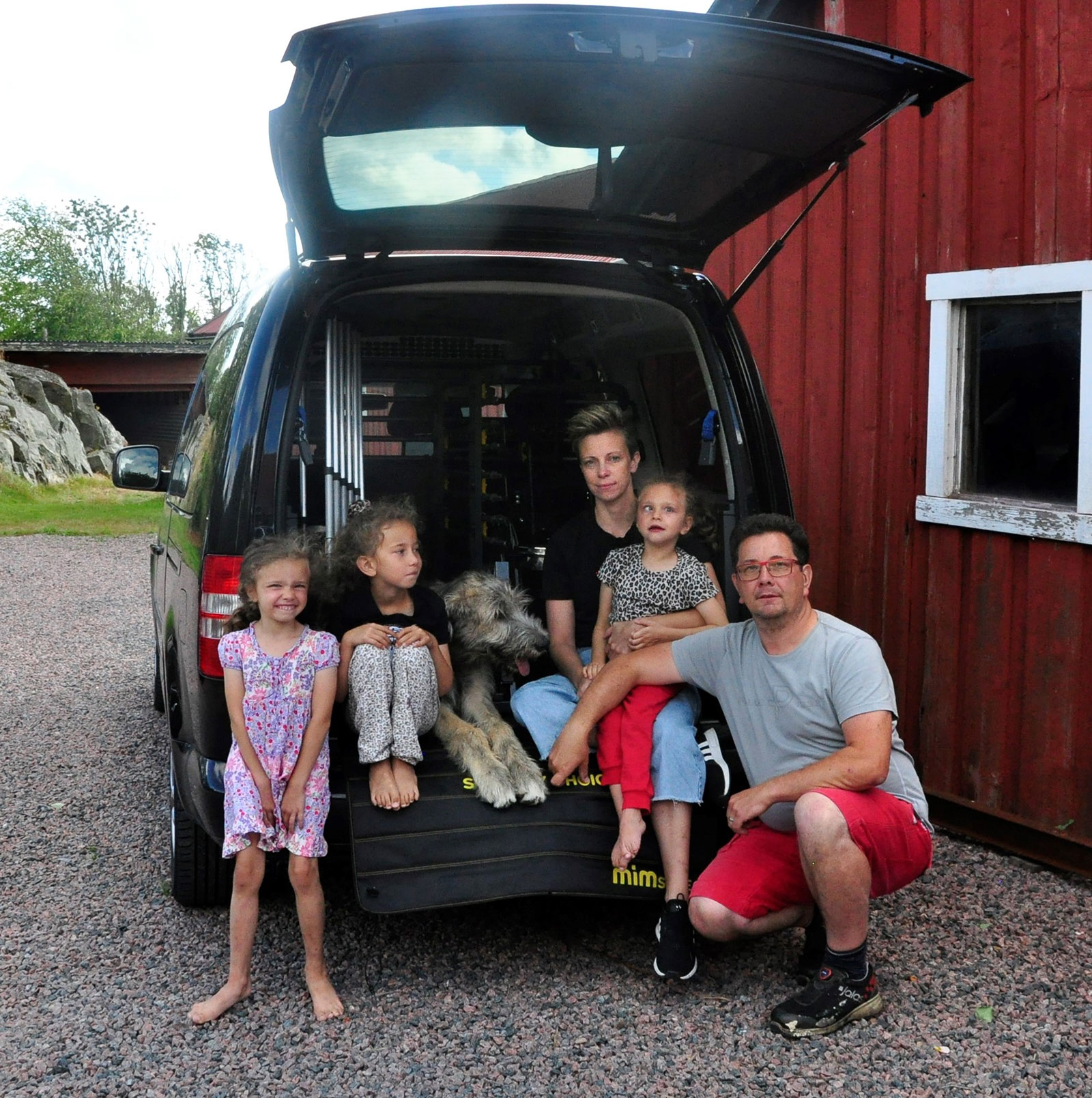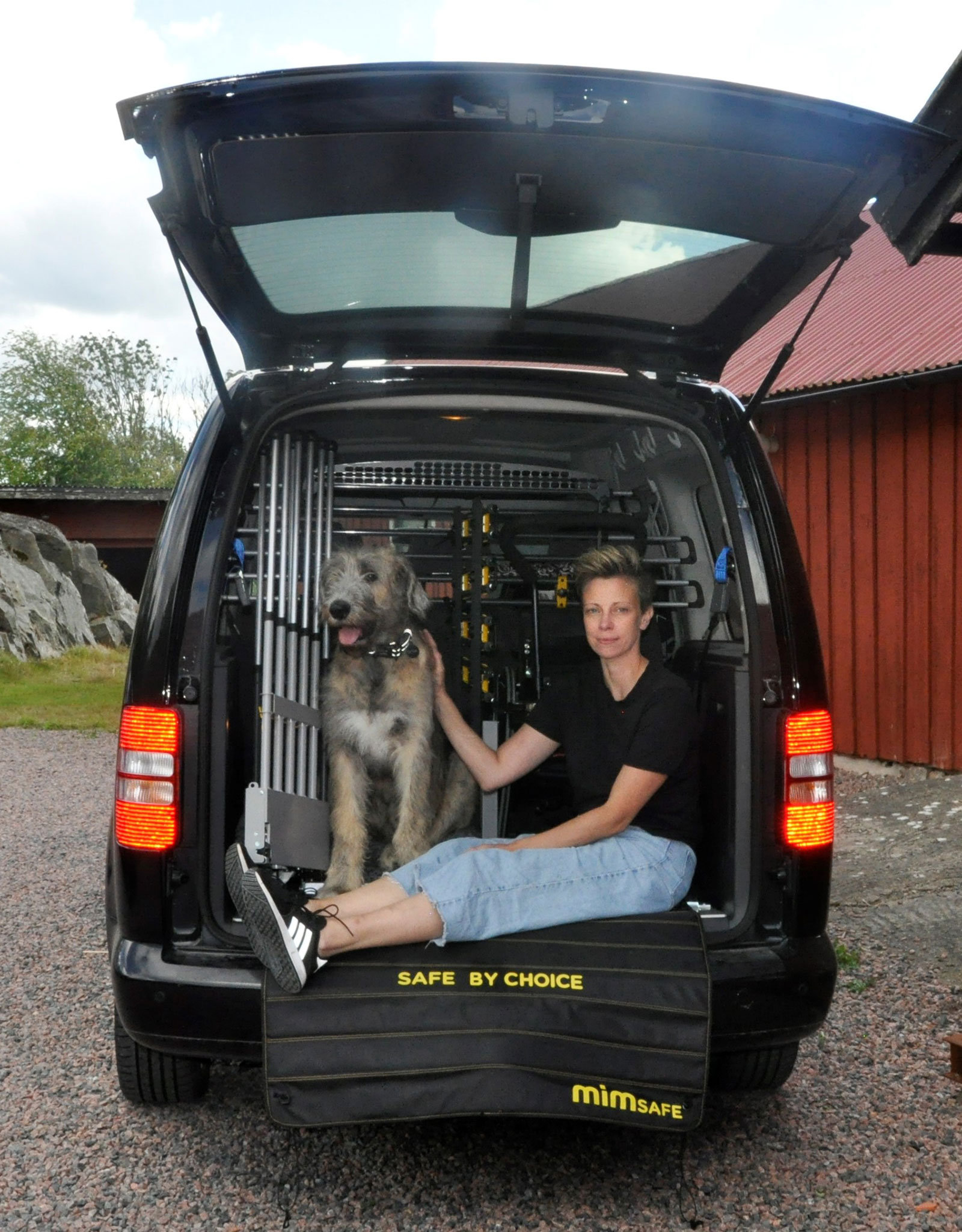 After being apart for ten years, Anna and Niklas became a couple again. When their first child, Alwa, was two years old, they decided to have a second – which turned out to be twins. If you include Bosse, their new Irish wolfhound, the family had suddenly grown to six!
It is probably no surprise that they chose to buy a breed of dog classed as the world's largest. But we'll get back to Bosse a little later.
"Well, when people see the life we're living today, many react and say that we seem to be the type of family that goes "full ahead". But we do not see it that way. As far as we're concerned ours is a completely normal life." says mother of three Anna, speaking from their farm outside Kungsbacka, just south of the Swedish west coast city of Gothenburg, Sweden.
Anna and Niklas met for the second time after living apart for ten years in other relationships. They married and had a daughter, Alwa, two years after they got together again.
Since then, they have been on what could be described as a moving roundabout, constantly moving house or apartment. It continued that way until they were forced to decide once and for all after Alwa's siblings were born. The priority then was to find permanent accommodation that suited the needs of the family.
"Yeah, there were two more of us, just like that, with the twins Ida and Lina becoming part of our world. So we suddenly found ourselves seriously overcrowded. And especially with Lina having been diagnosed at birth with cerebral palsy, we realized that we just could not continue living in a house with stairs, so it was just a matter of moving again."
After much searching, the Rhodin family finally found their dream home - a farm out in the country amidst forest and fields.
"Yes, it is absolutely wonderful." says Anna adding that she was the one who pushed for the family to move to the country.
"And it's really turned out to be the best solution for all of us."
Then there was the issue of getting a practical car. One that can accommodate both Lina's wheelchair and their dog, Bosse.
He is still a puppy, but will grow up to be about one meter tall, with no safe cages or crates available for such large dogs.
"That was when we realized that to find a solution we needed expert help. We called MIMsafe and got to talk to Kristina, who welcomed us with open arms." says Anna.
They had called at the right time, because MimSafe had only recently added a new item to their range, a VarioGate Single. They suggested installing this single gate version, and also mount the crash-proof VarioBarrier cargo grille, to prevent the dog from being thrown into the cabin in a frontal collision.
So it was left to Niklas to drive to Trollhättan to see if MIMsafe's suggestion to use the new single gate would work in practice with their car.
"The support provided was incredible." Niklas recalls, and continues.
"The staff there was absolutely fantastic… salesperson Kristina Johansson and product developer Jerker Bergström, as well as members of MIMsafe's management, including founder, Mats Björnetun, were all in attendance while the gate was being installed. All were naturally curious and intrigued, because ours was the first car to have the new single gate installed.
"That's what I call service in the true sense of the word." says Niklas, beaming with pleasure.
And Anna, the one who most often uses the family's VW Caddy Maxi Life, waxes lyrical.
"MIMsafe were really up to the challenge. We are one hundred percent satisfied, and so happy that each and every one of us can safely travel in the car" concludes Anna Rhodin from the farm in Särö.
Text:
Lars Sergård
Head of Marketing & Communication
MIMsafe
[email protected]
+46 (0) 708-64 14 76